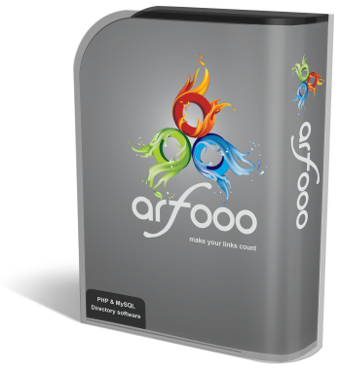 Arfooo Directory : Free PHP, MySQL directory script
Arfooo Directory is the most powerful free and open source directory script in the world.

Your (future) directory script includes many customizable features with a single click, studied and designed to satisfy the greatest number of webmasters worldwide.

With its advanced features, Arfooo directory is not a simple link directory script. Arfooo Directory allows you to create directories without asking link (URL) in submission form. Therefore, you can create all types of directories (yellow pages, job ...).
Not all, you can also create custom fields (text, select, checkbox ...) in 2 clicks to make your directory unique.

Arfooo Directory is developed with latest technologies : MVC architecture, PHP 7 (OOP), Javascript / Ajax (jQuery) and uses UTF8 encoding.

This directory script is developed and designed by an professional of search engine optimization (SEO) and integrates architecture and functions specifically dedicated to help you optimize your SEO directory in all detail: URL Rewriting, anti duplicate content , possible optimization of each field (html title, meta description, h1 tag ...), SiteMap...

Download it, test it and adopt it as hundreds of webmasters worldwide.
Information & development
Arfooo Directory Script : Informations & developments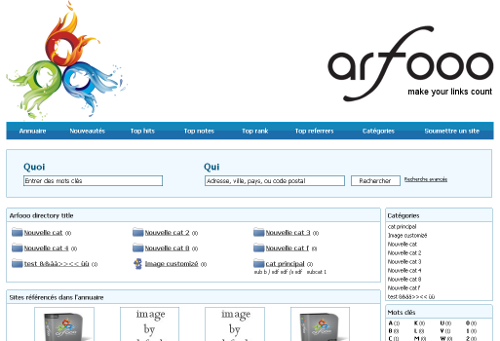 Arfooo Directory 2.0.0 is a new milestone in the evolution of the script. This step allowed us to make the software more stable, more secure, faster, while introducing new advanced features.
Through feedback from many webmasters, and their request for introducing new functions, we could flesh out the many features already present with new more powerful.
Below are some new features included in version 2.0.3 of the Arfooo Directory Script :
Create custom fields (text, checkbox, select ...)
Upload photos / images
Configurable search engine with advanced search
New template for the admin and the front office
Advanced features
Advanced features and basic functions
Arfooo directory offers many features, the most basic to more advanced. This is possible thanks to the engine script for which we decided to use a MVC architecture, coupled to the PHP 5 object-oriented. jQuery enriches the user interface while enhancing the latter. MySQL complement and finalize our choices of different technologies. :
Arfooo Directory includes many standard and advanced functionalities including :
Language and template system
Unlimited categories and subcategories
Create link directories, RSS feeds directories, but also...
Create directories without URL like yellow pages, jobs...
Display address, phone, fax, coupled with Google Maps
URL Rewriting, anti duplicate content, and possible optimization of each field for SEO
Simple and intuitive placement of your advertisments (Adsense, affiliate ...)
Create custom fields (text, checkbox, select...)
... see all the other
features of Arfooo Directory Script
.
Adopt me
Try it, crush it, download it, you can only adopt me
...
Still not convinced ?
A
demo version
is available, so you can test all functions of the Arfooo Directory Script.
You can also download it and test it on your local or production server. You do not need a developer to install.
We put at your disposal, a simple and intuitive installation system, so you can install your new directory script easily and quickly.
Need help? A forum where support is provided you wait to answer your various questions.
Part of the forum is fully dedicated to the support of Arfooo Directory Script, including sections devoted to tutorials, themes and templates ... but also various sections devoted to web development and SEO.
Guillaume Hocine & Arfooo Directory Team
Change script: migrate
Change script: migrate to Arfooo Directory Script
Your current script directory does not satisfy you?
The performances are not present? They do not include the features you want in directory script?
You want a powerful directory script, efficient, innovative, following the evolution of the Internet (programmed with the latest technologies and according to the latest search engine optimization news - SEO).
All this is present in Arfooo directory Script for free!
To change easily and simply your directory script without losing your data, while retaining your natural SEO intact, we offer you a migration script. This script allows you to migrate your old scripts directory, to Arfooo Directory in just a few clicks.
Simply follow the instructions in the file at your Dispot, and you will change within minutes of directory script.
Find the list of scripts directory can be migrated to Arfooo Directory.